Republican Joe Peters on the Issues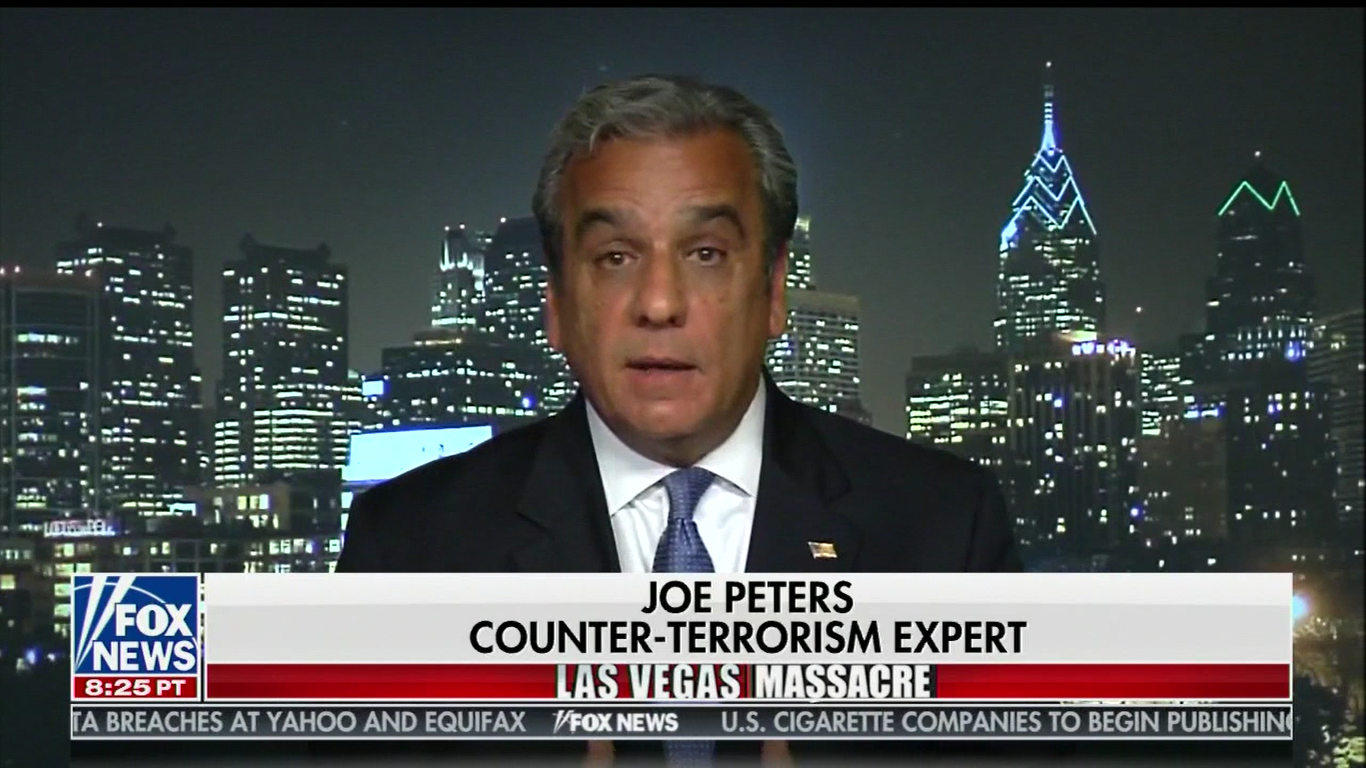 I am pro-life and I will vote that way.
I strongly support the 2nd Amendment and have been rated 'A' previously by the NRA.
—
Immigration:
We must end sanctuary cities. I support President Trump's efforts to control the border and whether that be a wall, fencing sensors, assets in the sky — because controlling the border not only honors the immigration tradition of legal immigrants it also helps us fight the drug problem. That's where the fentanyl is coming across the border which goes into the heroin that's killing people. That's where human trafficking occurs and money laundering back and forth and the flow of illegal guns. So border security is key to all of our law enforcement and the immigration problem. I'll fight for that in the Congress.
—
Agriculture
Farm families can count on an ally in Joe Peters. Send somebody to Congress who knows your issues. I'll be the congressman to protect northeastern Pennsylvania farm families.
Having grown up in northeastern Pennsylvania and spent much of my life on and around farms and hunting and fishing, I understand the plight of our farm families.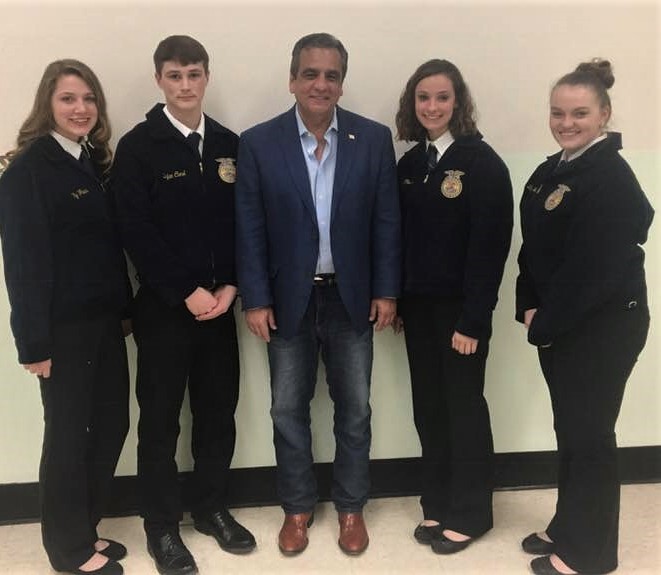 Joe with members of the FFA at the Wayne/Pike Farm Bureau Dinner
We're losing farm families every day in Pennsylvania. But it's still our number one industry and it needs help in the Congress. All of the years old problems are still there: taxes are too high – and inheritance taxes can cause families to lose their farms. That's a sad irony.
Pricing and overregulation are killing our dairy farms in Pennsylvania — once the strength of the agricultural industry. And speaking of regulations it's absurd and offensive that the EPA through its Waters of the United States can mandate that a farmer who has a ditch that happens to be filled with water or a low lying area in a meadow has to go through too many regulations before he can do something with that water.
—
The opioid-heroin epidemic:
This is the issue I hear about most from parents and families and in the 8th Congressional District. When I was an undercover police officer in Scranton no one wanted to be a heroin addict. It was an image of a needle in your arm and laying in an alley somewhere. Today heroin addicts are everywhere and anybody. The new face of the heroin addict comes from the over prescription of opioids by physicians unintentionally. It comes from the overuse of those opioids. By then you're addicted.
Then you're on the street looking to buy individual pills and the pills run out. The money runs out. Then you're delivered to that dime bag of heroin.
I know this issue from the ground up. Having worked undercover; I was also the chief of the state's Bureau of Narcotics Investigations and also the state's top drug prosecutor.
I convicted the mafia in their efforts to distribute drugs. And finally: I worked in the White House as a senior official in the Drug Czar's office where the effort was to pull together all the pieces of this problem to work with physicians to educate them against overprescribing. 
We also need to work with our healthcare providers to ensure that there's coverage and there are healthcare benefits for those addicted — not just detox that doesn't work anymore. And even 28 day inpatient treatment modalities aren't sufficient. 
As a former police chief my law enforcement colleagues and I recognize just like everyone else that will never arrest our way out of this problem. It is a health care issue. It's about addiction and treating it. 
You can count on Joe Peters working in the Congress on an aggressive law enforcement funding and training. But as importantly you can also count on Joe Peters to bring together the physicians so we don't overprescribe to mandate healthcare providers to give the inpatient coverage that addiction treatment needs. In preventing this opioid crisis, parents may be the most important partners of all. Those pills in a prescription bottle in your medicine cabinet. Keep those pills away from your children.
It used to be that people said wait for someone to bottom out and ask for help. Heroin and fentanyl don't allow that anymore. The end of the line now, the bottoming out, comes on the obituary page. Every day we open the paper and see the photo of a young child. Maybe that family was brave enough to talk about addiction in that obituary.
—
Serving our Veterans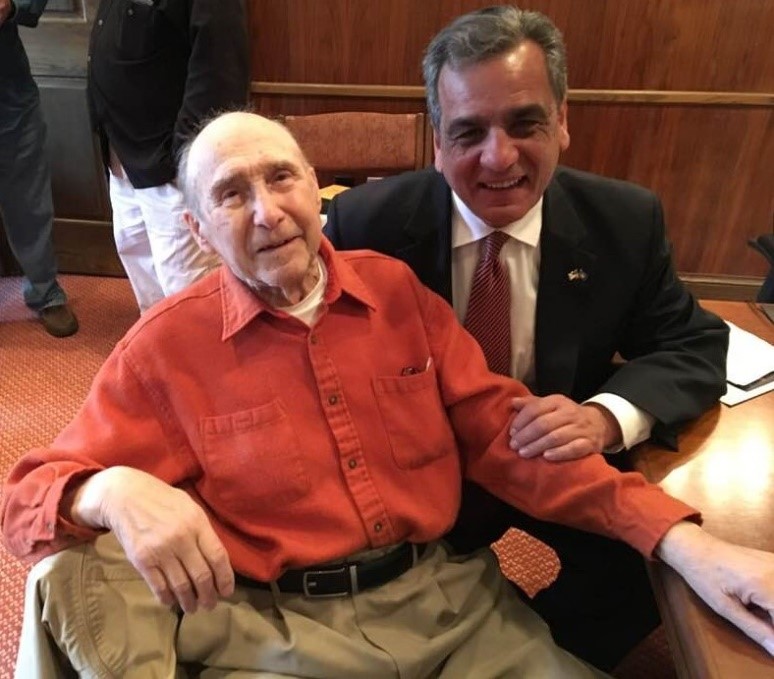 Joe with WWII Vet Ed Kuhn at a recent function in Pike County
One of the silent killers in America is the loss of 22 of our veterans a day because of suicide. That's unforgivable. We need to deal with PTSD not just after the soldier returns home but while they're in-country.
It's intolerable that our vets have to wait for health care for those on active duty if they apply for disability. That should be accepted unless proven otherwise. For those who have been on active duty and apply for disability they should be granted it immediately, unless later proven otherwise. Not the other way around. 
As your congressman I will always fight for veterans here in northeastern Pennsylvania and across the country. It is inexcusable that our vets in their V.A. system have to wait too long for an appointment. They should be able to go to any doctor any hospital any time.
—
My time as a Scranton Cop
E.B. Jermyn FOP Lodge #2 Endorses Joe Peters for Congress